One taste was all it took.
Derek Block demands more.
Frankie Jordan wants to run.
Pleasure complicates business.
But some passion is just too hard to resist.
Things are getting hotter as real estate gets real….

This is Episode Two of the five-episode Timber Towers novella series.
Unblocked, Episode Two Buy Links
Unblocked Episode Two starts off exactly where Episode One ended. Frankie is buzzing from her office encounter with Derek and she's not sure where to go from there. Her professional relationships may very well suffer because of what she's done and what she plans to do.
"This may have felt like something, but believe me... it was nothing."
Derek still has his sights on Frankie and one night with her. He'll stop at nothing to make everything perfect and he does. Their tension and passion comes to a head after only knowing each other for about two weeks and then it all comes to a halt when Frankie finds the absolute worst person leaving Derek's house but she has no idea why she's there.
"When you come, I want you to moan my name from the depth of your throat, drawing hte sound across your tongue and through those gorgeous lips. Can you do that?"
Marnie Mann has left us again with a cliffhanger. This wasn't as bad as the last but I still wanted to shake my fists. Frankie needs an explanation! She'll be ok in the long run if she didn't just witness what she did. We will find out Frankie and Derek's fate in the next three installments of Unblocked.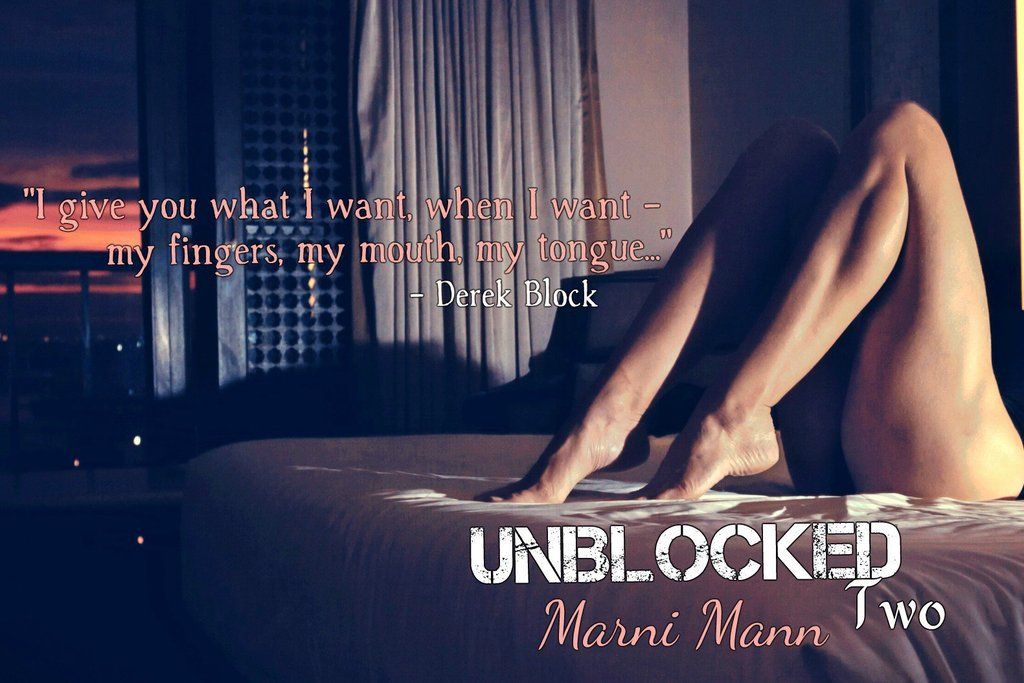 I held her wrists above her head and leaned down so she could feel my words, not just hear them. "I give you what I want, when I want - my fingers, my mouth, my tongue..." My hand dropped to my zipper. I fisted the crotch of my jeans. "Even my fucking cock. Understood?"
I expected her to pull back, but her focus seemed to soften as her eyes traveled down my stomach and settled on my hand. I released the bulge so she could get a better look at my dick.
She licked her lips. "Got it."
I knelt on the bed and straddled her body, holding her hands against the headboard. I had made a special request for this bed, I wanted something wooden, with slats on the headboard, carved and sanded, so the finish was smooth on all four sides. I knew she could handle the rubbing, but I didn't want her skin cut or splintered.
"You're not going to tie me up…"
I weaved the flannel around her wrists and secured the knots to the headboard. "I'm not?" The shirt was tight enough to prevent her from moving, but loose enough to allow circulation.
She glanced at my handiwork. "You warned me that you would do this…I never thought you really would."
"Don't ever doubt me, Frankie. I always keep my promises."
Marni's Social Media Links:
Facebook ♥ Twitter ♥ Instagram
a Rafflecopter giveaway