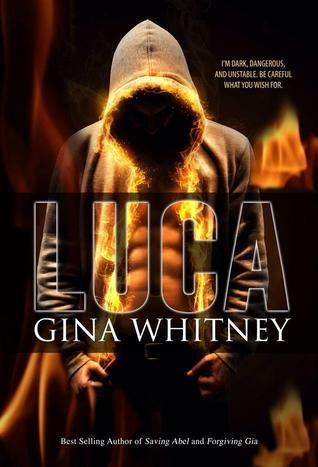 "Anger is like a thorn in the heart...the roar of my courage and the cold sweat of my fear." ~Luca

Pyromania is an impulse control disorder [1] in which individuals repeatedly fail to resist impulses to deliberately start fires, [1] in order to relieve tension or for instant gratification.

Damon Luca, or Luca as they called him. I thought of him more as Damien, the fucking devil within these walls that now is my life. Dark, broody, and deadly to any woman. Mind-blowing, soul-shaking, raw sex appeal. He was a tall statured boy with broad shoulders and a pair of green eyes that set my soul on fire. His inky black hair framed his hard, chiseled features. He had the type of body that had no business being on a seventeen-year-old. I knew that once he fully developed, he'd be nothing short of drop-dead gorgeous. As I said...deadly on the eyes...and dangerous for your heart.

My name is Allison. I met Luca through an unfortunate event when we were younger. I'm now twenty-four, and this is my story. My fucked up life. It's not a pretty one. Then again, the most interesting ones aren't...are they? This isn't your usual love story. Anything but. There are no blue skies, rainbows, or unicorns. Only him...my own personal arsonist. He had the ability to set my panties on fire, leave my body smoldering, and turn my heart into burning embers. He scared the hell out of me, made me feel. He opened my eyes to the world of twisted love. But love no less. This scary, beautiful man stole my heart from a young, tender age and refused to give it back. Here's our story…

This story is deep, dark, and deals with real scars and growth because of them.
I was so looking forward to reading and reviewing Luca. I've been waiting for months since Gina first announced it and I loved her books, Saving Abel and Forgiving Gia. With that being said, Luca was severely lacking in my eyes. I truly couldn't connect with Allison and Luca's characters and I'm still confused as to why that is.
"My name is Allison. And this is my story. It's not a pretty one. Then again, the most interesting ones aren't...are they? This isn't your usual love story. There are no blue skies, rainbows, or unicorns. Only him...my own person fire-starter."
Allison and Luca meet in a rehab/treatment facility as teenagers. There is an insta-love/attraction vibe going on for both of them. Allison is recovering from a sexual trauma and Luca is trying to overcome pyromania. There's not much as far as therapy for the issues they're experiencing. I guess I was looking for more of their back-stories. Why is Luca a pyromaniac? Why did Allison's parents send her to a treatment facility? She's known as the "emo girl" but I feel like we need more about her.
"She grounded me. Took the breath out of me. She is my light. My spark. The need to be her sentinel...her guardian...her everything was suffocating."
Seven years later (in part two) Luca and Allison haven't seen each other since treatment. They've never gotten over their love for one another but she's trying to move on and Luca is determined to find his way back to her. They find each other and all is well. Insta-happiness. At 94%, I knew something was going to happen and it did. The ending felt completely rushed and not well thought-out. The book ended with me longing for more of this story. I'm sure it will have another installment, at least I hope so but there was no "to be continued..." to be seen.
I really hope Gina gives us more of the story besides Oliver's (Allison's best friend) book. Luca and Allison need more and how it ended did not sit well with me at all. I also feel that Luca could have gone through another thorough edit since there were many grammatical and spelling mistakes. I'm not giving up on Gina's books. I still want to read more of Abel and Gia's story whenever that may come.