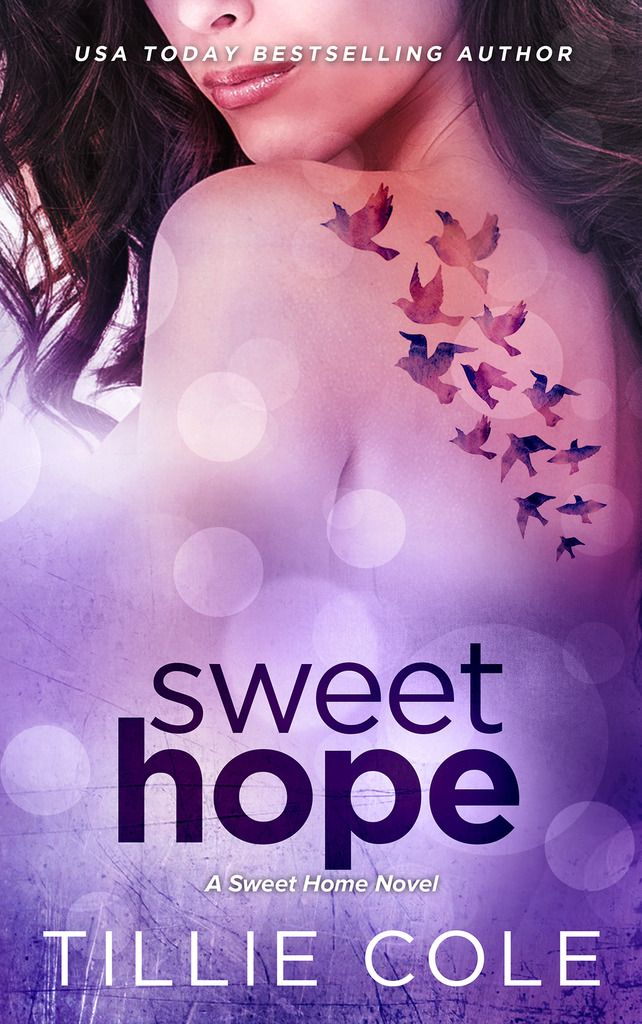 From the USA Today Bestselling Sweet Home Series, comes Sweet Hope.

My name is Ally Prince and I've always been unlucky in love. I don't know why, I just always… have.

When all of my best friends were falling for their soul mates in College, I was left behind. I was Ally, the pretty cousin of superstar quarterback, Romeo Prince. I was Ally, the best friend to the most amazing group of girls I've ever known—a title I loved, but one I became tired of 'just' being. And I was Ally, the one on which they could all rely.

But to me, I was Ally, the girl with the heart no one had claimed... And I was, Ally, the girl, who underneath it all, was heart-breakingly lonely.

I LOVE love; the thought of it, the nervous excitement of falling for Mr. Right, the desire of someone becoming my entire world... of me becoming theirs. I've always wanted passion, heart-stopping, epic, life-changing romance... I've always wanted the fairytale… I've always wanted it all.

It just never seemed like I would get it.

For the past few years I've thrown myself into my career as a museum curator. I'm the best of the best, the person every museum wants to hire, so when an opportunity came up to move to Seattle, I jumped at the chance. My cousin and my best friend lived in Seattle and I needed a change.

I needed a new beginning.

I wasn't expecting to meet anyone in the Emerald City. I wasn't expecting to work closely with the reclusive new sculptor my all-important gallery design was centered around. And I certainly wasn't expecting to fall for him... heart-stopping, epic, life-changing love...
My real life fairytale come true.

But, like in every fairytale, there's a villain, a dark and tortured soul... I just didn't know that the villain and the hero in my story would end up being one and the same.

New Adult Romance Novel—contains adult content, sexual situations and mature topics. Suited for ages 18 and up.
Sweet Hope
is the fourth book in the Sweet Home series, it should not be read as a standalone. It's recommended by Tillie Cole to read
Sweet Fall
prior to reading this.
Ally is the best friend every girl wants. She's beautiful, caring, compassionate and understanding. She stood by Molly's side during her time of need in Sweet Home and Lexie's battle with her eating disorder in Sweet Fall. It's time for her story. She deserves love and finds it in the most unexpected place. When she learns she's going to be curating the exhibition for her favorite artist, Elpidio, she knows her heart will never be the same.
"I was obsessed with a man I'd never met, no more than a concept."
Elpidio is a reclusive, highly private sculptor. He doesn't like to make his presence known, and his past is even more of a mystery. He's poured his heart and soul into his art over the last few years so he can find solace in the grief and destruction that was his previous life. He never had hope, never thought a good life was what he deserved, but he found Ally and his future was forever changed.
"I ain't used to feeling good things...I can't ever face feeling much of anything...I've done too much bad shit, enough to drown me. But with you...I feel...I feel...everything, every-fucking-thing."
Tillie Cole's writing is absolutely stunning. Every word is truly heartfelt. There's something about each of her books that hits on every emotion that really gets to me. I'm always recommending Tillie's books because of that. Laughter, tears, suspense, everything on each page, it's what makes a great book. I love every second of every page when I'm in her world. Tillie's works aren't all hearts and sunshine, they're real stories with real-world problems, that's what I truly love.
Sweet Hope
is no different. The tragic story of Elpidio's life and love for Ally, and the beautifully written ending to the Sweet Home series was absolute perfection.
Elpi sat up on the bed, the sheet riding low on his hips as he lit up a cigarette and held it between his lips, looking like a darker, more disturbed version of James Dean.
He was living, breathing poetry. Not love poetry, but the poetry which tears out your heart, rips it to shreds, pushes it back into your chest, and makes you question what the hell just obliterated your soul?
I couldn't tear my gaze away from him as I pulled up my dress over my breasts, his man bun seductively awry, his ripped tattoo-covered abs tensing as his arm moved up and down to hold his cigarette as he inhaled. When he blew out the smoke, small lines etched round his eyes; the severe effect screamed danger. I was completely infatuated with this man.
Elpidio caught me staring as he scratched his nails over the skin on his broad chest. His eyes lit with blatant desire, and he flicked his chin. "Get the fuck outta here or you won't be going nowhere."
Exhaling a shuddering breath at his curt demand, I strode to the bed, where Elpi balanced the cigarette on his full bottom lip—an action that was beginning to destroy me at how damn sexy it was.
When I stopped a foot away, Elpi reached out his hand to grip my hips, then jerked me closer until I lay sprawled over his body. Releasing one of his hands, he moved his cigarette from his mouth and blew out the smoke, the thick cloud billowing past my face, the rich tobacco scent mixed with his natural musk eliciting a groan from the back of my throat.
"You're fucking coming back tonight," he growled, making sure I knew to obey his command.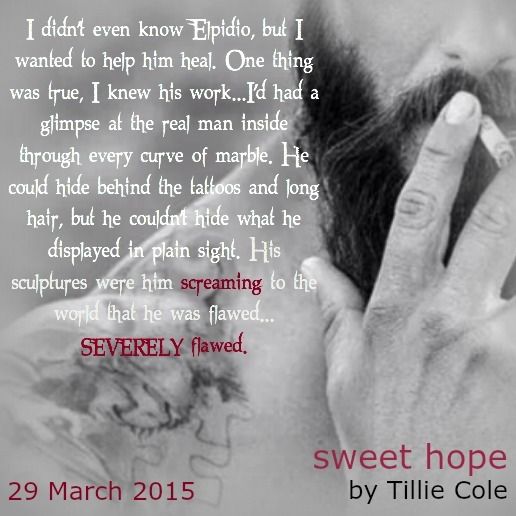 Amazon & USA Today Best Selling Author, Tillie Cole is a Northern girl through and through. She originates from a place called Teesside on that little but awesomely sunny (okay I exaggerate) Isle called Great Britain. She was brought up surrounded by her English rose mother — a farmer's daughter, her crazy Scottish father, a savagely sarcastic sister and a multitude of rescue animals and horses.
Website ♥ Twitter ♥ Facebook ♥ Goodreads Author Page
a Rafflecopter giveaway