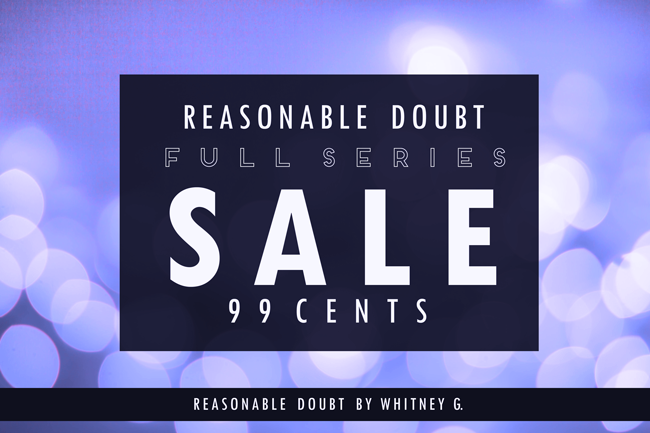 Have you heard the news? REASONABLE DOUBT The Full Series is on SALE for 99 pennies. You can find that change in your couch cushions. It's worth it; I promise! Just thinking about this series makes me want to fan myself. Whitney will also be relaunching signed paperbacks om her website. If you're looking to get a book signed by this extremely talented author, go check it out →
http://www.whitneygracia.com/
The complete New York Times Bestselling serial, now available in one book! My cock has an appetite.

A huge and very particular appetite: Blonde, curvy, and preferably not a fucking liar...(Although, that's a story for another day.) As a high profile lawyer, I don't have time to waste on relationships, so I fulfill my needs by anonymously chatting and sleeping with women I meet online.

My rules are simple: One dinner. One night. No repeats.

This is only casual sex. Nothing more. Nothing less.

At least it was, until "Alyssa"...She was supposed to be a 27 year old lawyer, a book hoarder, and completely unattractive. She was supposed to be someone I shared law advice with late at night, someone I could trust with details of my weekly escapades
.
But then she came into my firm for an interview--a college-intern interview, and everything fucking changed...
Whitney also has a new book in the works,
TURBULENCE
.
Fuck me recklessly
Kiss me harder.
Take me again and again…
He and I met under a cloud of clichés:
Boy meets girl. Boy charms girl. Boy fucks girl.
Our story was supposed to end right after the orgasms, right after we went our separate ways.
But then we saw each other again…
And neither of us could walk away.
Our rules were simple.
Our passion was scandalous.
Our hearts were supposed to be safe…
But when you find something so all-consuming—something so intoxicating and inescapable, you'll risk everything you've ever had, even if you're destined to crash and burn.
This is us.
This is our messed up love.
This is turbulence.
For upcoming information on TURBULENCE and other nonsense, visit Whitney's blog: