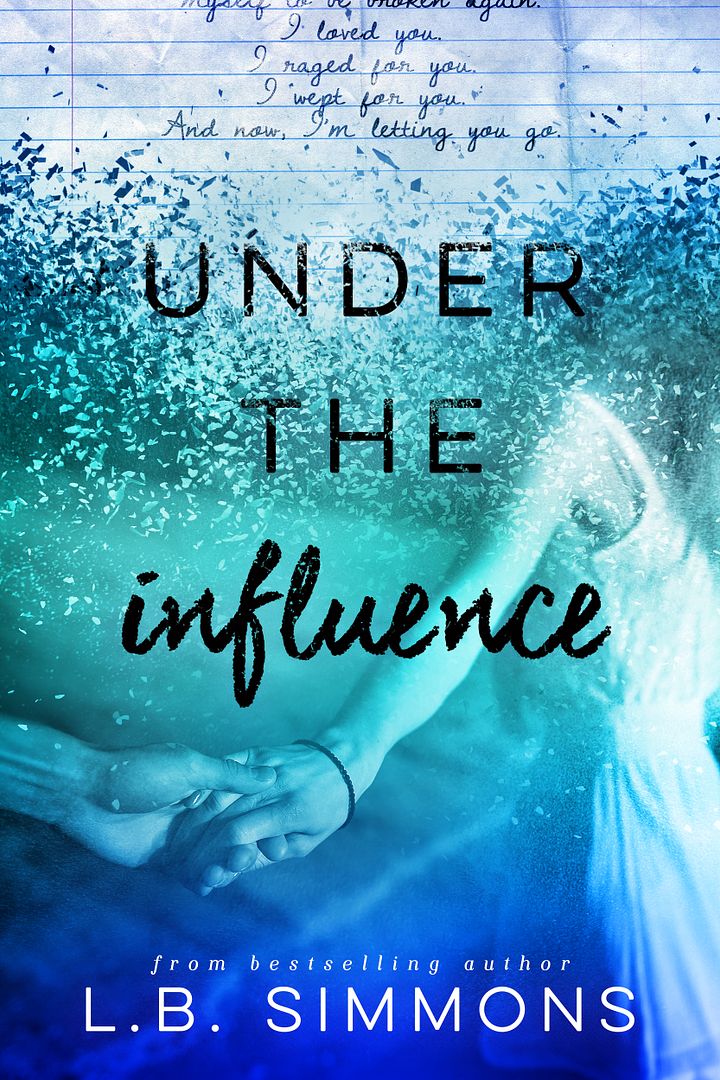 Dalton,
I loved you once. A love I thought irrevocable. A love I mistakenly believed could transcend both time and circumstance. Under the influence of my dimwitted, naïve, traitorous heart, I became intoxicated with what I now know was simply a figment of my self-indulgent imagination. So drunk on the feeling, I couldn't see what was right in front of my face. So foolishly enamored, I blindly followed my heart into the depths of an emotion that would ravage me.
Years later, I know now what I wish I knew then. I am stronger. Smarter. Tougher. I will not allow myself to be broken again.
I loved you.
I raged for you.
I wept for you.
And now, I'm letting you go.

Author's Note: Under the Influence is the journey of two childhood friends that spans the course of five pivotal years in their lives. It is a story about their discovery of true friendship as it blossoms into first love, their experience of crucial sacrifice and ultimate betrayal, and their endurance of agonizing heartbreak on the way to finding lasting redemption.
Under the Influence
is the first of L.B. Simmons's books that hasn't made me contemplate buying stock in Kleenex. That doesn't mean it's not an emotional read. It is. The story is just more of a gut wrenching ohLordpleaseno type.
Spencer and Dalton are both incredibly broken individuals, both living a lifetime of hurt over a few short years in their young lives. Yet they deal with their shattered hearts in two very different ways. Dalton is more of a fighter. He's had to be in order to survive. He feeds off his rage, allowing him to do some otherwise questionable things. Spencer is more of the make love not war type. She even dresses the part.
While almost polar opposites, these two complete one another. (I know, I had a very Jerry McGuire moment there.) The rough parts of Dalton's heart fit snuggly with the loving and encouraging parts of Spencer's. It's really quite beautiful. L.B. Simmons writes in such a way that it's nearly impossible not to fall in love with each and every one of her characters. (Minus the dirt bags, like Silas Kincaid.) These two are no exception. The love they share for one another is incredible. It's what people search for, strive for, their entire lives.
I've gotta say, Under the Influence didn't exactly pan out the way I thought it would. Twists and turns are always fun, but some of these left me feeling shocked and shattered. Prepare yourselves.
"You can avoid me, ignore me, be pissed at me… Hell, even hate me. But as sure as I still feel your heartbeat alive in my chest, you will never lose me."
L.B. Simmons is a masterful storyteller, one of my absolute favorites. I've read everything she's written. It's like food for the soul. I love the way she writes and the story matter she chooses to tackle. It's never easy, but it's always beautifully written, giving respect and dignity to her characters. If you have a chance, pick up Under the Influence. You'll fall in love with these two just as I have. And watch out for Penny; she'll make your heart melt.
And that's when I see it. The faded bruising high on the little girl's cheek and the red welts that line it. A slap mark.
I force a deep breath through my nose and crack my neck, my natural response when stricken with memories from my own past. The rage I feed upon, the anger that fuels me to perform on a regular basis, skims dangerously close to the surface as my fingers tighten around the crayon in my hand.
Her blue eyes remain locked with mine. She watches closely for a moment, studying me intently, then rises and leans her tiny body across the table to place her palm on my cheek.
Normally I would strongly object to anyone I don't know putting their hands on me, but I remain frozen as the warmth from her hand seeps into my skin. Huge tears sprout, coating her eyes before she finally speaks.
"You're one of us. I can tell."
She removes her hand and places it on my chest, the burning beneath my ribcage strangely anesthetized by the contact. "I know. " She nods as she focuses on her touch. "It hurts here. Where they break your heart."
When I'm barely able to nod my response, she offers me a defeated smile. My throat clogs with emotion I haven't felt in years, and I'm forced to swallow it deeply. Her eyes fall to my throat and then rise once again to meet mine.
"Yeah, I feel it too."
Spencer POV:
Cassie maintains her wide smile. "You go on a date and I guarantee what you find regarding Dalton and his feelings will surprise you."
"Cassie. No one wants to go out on a date with me. Trust me."
She shakes her head before she busts out laughing. The ridiculous sound of it reverberates around my room. "You really have no idea, do you? Every guy at school has a hard-on for you, you fool. They're fucking scared to come within even ten feet of you because of Dalton. He let it be known that if they did, he would deal with them."
"Oh my God! You have no idea what you're talking about!" I'm laughing outright now. She really has lost her mind.
She shakes her head, the severity of her statement tightening her features. "I'm totally serious, Spence. I swear on my Kindle."
At this, I take a sharp breath and sober immediately. To Cassie, her Kindle is sacred as the Bible.
She nods slowly, dramatically, as she watches me grasp the meaning of her statement. Right hand raised, she states, "On the over-abundance of trashy romance novels within my possession, I solemnly swear that before Dalton graduated, he straight-up took out a vendetta against any male in our school who dares approach you."
"He did what?!" I screech, pressing myself off the bed and catapulting into upright position.
Anger ignites and my face heats wildly as realization dawns.
This whole year, in fact, the entire four years of high school, no one has looked at me. No one has asked me to come to parties, to go on dates, to go to prom. Not that I would go, but it would be nice to be asked, you know? Okay, I probably would go. I mean, it's a rite of passage, right?
Two black painted fingernails make their appearance as they snap directly in front of my face, jolting me out of my inner thoughts.
"Hooker! Pay attention!"
I shake my head and refocus. Still seething, I whisper, "This whole time, I thought it was me. That I wasn't dating material or pretty enough. Four years, Cass. Four years of feeling like I wasn't good enough." My molars grind together. "It all makes sense now."
She waves her hand dismissively. "We're getting off track here."
L.B. Simmons is a graduate of Texas A&M University and holds a degree in Biomedical Science. She has been a practicing Chemist for the last 11 years. She lives with her husband and three daughters in Texas and writes every chance she gets.
NEWSLETTER ♥ Facebook ♥ Twitter ♥ TSU ♥ Website ♥ GOODREADS