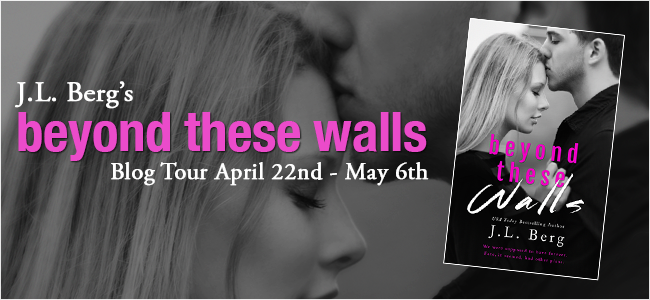 Happily ever after.

That was what we were supposed to have.

Pudding cups, sandy toes and a lifetime of making each and every one of our dreams come true—that is the future I'd promised her.

I could see it in my dreams, hold it in my hands, but then I watched as all of our hopes and wishes suddenly slipped through my fingers like sand.

I thought the worst was behind us, but what if we'd just delayed the inevitable?

They say love can overcome any obstacle. But can it survive death?
Beyond These Walls is the sequel to J.L. Berg's Within These Walls. If you've read the first installment of the series, you know that both Lailah and Jude suffered from two very different broken hearts. Lailah was just the cure for what ailed Jude, while Jude had the means to provide Lailah with a new, slightly used one. It was a sweet heartwarming story. Now, years later, we meet up with the two lovebirds once again…
When given a second chance, you shouldn't fade into the background. Rather, you should explode like a rainbow of colors dripping down a canvas.
If I'm being completely honest, I don't think Beyond These Walls needed to be written. I liked the way that the first book ended. A little mystery is sometimes a good thing. But people begged and pleaded for more Lailah and Jude, and that's exactly what J.L. Berg gave them. The beginning of this novel moved rather slowly. I didn't feel like the story really began until I was around 60% of the way in. Even then it all came together too nicely. I'm one of those readers that likes a little mess, some angst. This book had very little.
Beyond These Walls is an alternating POV novel. While I generally like those type reads, I had a hard time getting into Jude's POV. He didn't sound like a man. He didn't have that edge about him. He seemed less like the Jude I remembered from Within These Walls, and more like Lailah's voice.
A sweet read? Yes. Does it live up to the first? No. I feel that Beyond These Walls is a book you can take or leave. But one thing remains constant: It's almost impossible not to fall in love with these two characters. The adoration they share for one another shines through effortlessly. It wasn't necessary, but I'm still glad Ms. Berg took the time to write about the next stage in Jude and Lailah's life together.
"Love isn't about perfection. It's a beautiful chaotic mess, and there isn't anyone I'd rather spend my life with than you."
Warning: The epilogue will cause a few tears to fall. They're happy, but tears none-the-less.
Within These Walls is on sale for a limited time! Grab it now for just .99c!
J.L. Berg is the USA Today bestselling author of the Ready Series. She is a California native living in the beautiful state of historic Virginia. Married to her high school sweetheart, they have two beautiful girls that drive them batty on a daily basis. When she's not writing, you will find her with her nose stuck in a romance novel, in a yoga studio or devouring anything chocolate. J.L. Berg is represented by Jill Marsal of Marsal Lyon Literary Agency, LLC.
Website
|
Twitter
|
Facebook
|
Goodreads
|
Newsletter
a Rafflecopter giveaway