Bleu MacAllister is consumed. A horrific childhood incident has caused every decision in her life to revolve around bringing a monster to justice. With years spent studying The Fellowship, an organized crime brotherhood of liars, thieves, and killers, Bleu will rely on her skills as a special agent to cut Thane Breckenridge off at the knees. But walking hand in hand with retribution means risking collateral damage, in the form of Breckenridge's son Sinclair—until Sin becomes so much more than Bleu bargained for. She's always known this undertaking would place her life in danger—she never imagined her heart would be as well.
Barnes & Noble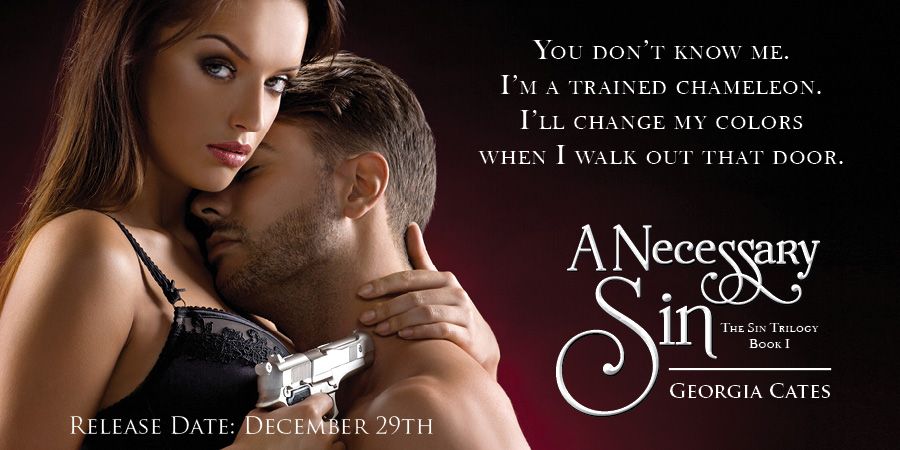 I'll confess, I originally signed up to read A Necessary Sin simply because of the cover. You're not supposed to do that - judge a book by its cover, but I just couldn't help myself. Believe me, the fact that it's set in Scotland and had sexy men with equally sexy accents was just the cherry on top of an already mouthwatering book sundae. Did I mention that this was my first time reading something by Georgia Cates? How is that even possible?!
Bleu McAllister's mother was murdered when Bleu was just a tiny little thing. And sadly, her life was almost snuffed out that same night. Since then she's been obsessed with getting revenge. So much so that she enlisted the help of her adopted father, an FBI operative. I'm sure you can imagine that he was less than thrilled to find out his baby girl wanted to take out a high level Scottish "mob boss". That would be a hard pill for any parent to swallow, couple that with his law enforcement background, and it's a rock meet hard place type situation. For Bleu there is no question, this man needs to die, and if her father won't help her, she'll go it alone.
Don't worry, he helps…
The intended target is Sinclair Breckenridge, son of Fellowship boss, Thane Breckenridge, A.K.A the man who allegedly killed Bleu's mother. If she can get to Sinclair, she can get to Thane. There's just one thing she must remember: Do not fall in love.
He holds me in his arms and squeezes tightly. "Are you hurt?"
"You can't hurt a steel magnolia."
I don't know about you, but I LOVE a bad ass heroine. The stronger, the better. Bleu does not disappoint. She's rough and tough with just the right dash of soft vulnerability. She evolves from this tough as nails killer to something somewhat softer, but still as intense… It's hard to explain.
If you like roller coaster rides, men with melt your panties accents, and a heroine who can crack your head open like a walnut; I'd highly recommend looking into this series. This first book does kind of leave you hanging off a cliff. It's not an uncomfortable hang, through – it's almost necessary.
Add A Necessary Sin to your TBR list.
Just do it.
You know you wanna.
"Damn, you don't give much away."
He's right. I have to make myself more vulnerable. "Most men don't appreciate hearing the word no when it comes to sex, so I thought you were skipping out on me." I shrug. "I must confess it was a huge letdown to not see you for two days. I wondered if my demands might have been too much for you to handle or maybe I was a turnoff."
"It's the opposite for me. I've never been more turned on."
"I'm calling bullshit." As much as I hate to admit it, that damn Geneen was stunning—until I broke her nose. "I've seen the women at the bar. Some are gorgeous and have bodies to die for. There's no way I'm the biggest turn-on you've ever had."
"Bleu. Those women are beautiful until you know them and understand their motives for being at Duncan's. Every last one of them wants to be claimed, and they're willing to do whatever it takes to make that happen."
Claimed. I remember reading about this in one of the files. The Fellowship has this bizarre practice of laying claim on women they aren't married to. "I don't understand what you mean by claimed."
"You don't understand because you aren't like them. And I like that very much."
"I want you to tell me what it means. Is it a Scottish thing?"
"Another time, Bonny Bleu."
Georgia resides in rural Mississippi with her wonderful husband, Jeff, and their two beautiful daughters. She spent fourteen years as a labor and delivery nurse before she decided to pursue her dream of becoming an author and hasn't looked back yet.

When she's not writing, she's thinking about writing. When she's being domestic, she's listening to her iPod and visualizing scenes for her current work in progress. Every story coming from her always has a song to inspire it.

Representation: All questions regarding subsidiary rights for any of my books, inquiries regarding foreign translation and film rights should be directed to Jane Dystel of Dystel & Goderich.
FACEBOOK ♥ NEWSLETTER ♥ TWITTER ♥ WEBSITE ♥ GOODREADS ♥ AMAZON AUTHOR PAGE